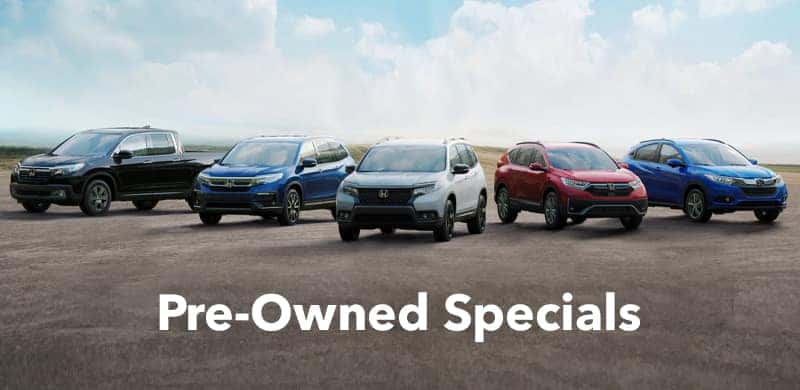 Pre-Owned Specials
Nothing compares to the quality of a Honda. No other program comes close.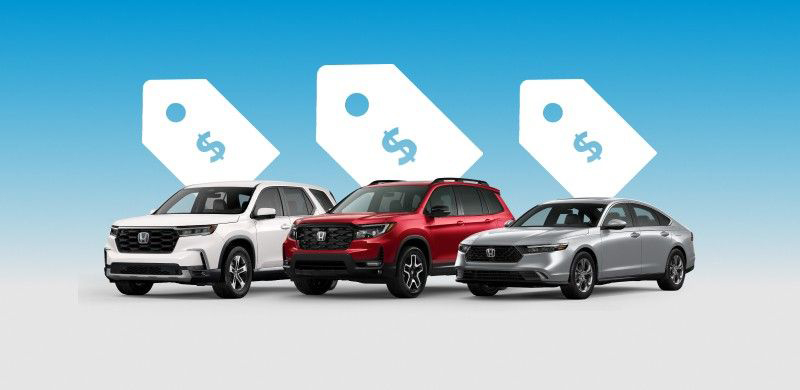 Current Offers
See this month's featured current offers going on now on new Honda vehicles.
Our Reviews
My 16-year-old daughter and I went to Pacific Honda for a used 98 Ford F-150 we got there we met with Richard very nice respectful it was a really nice truck but then I noticed it only had three doors so I knew my husband wanted for and so we had to walk away Richard did not hassle us or try to make us stay and look at other vehicles he just said okay thank you he'll keep an eye out for a Ford F-150 and in our price range well about a week later my husband said that he would like to get that original truck the 98 Ford F-150 so we went back and I decided to get the truck Richard was nothing but knowledgeable and respectful especially to my 16 year old that looked like she was bored of being there and so we went over to the financing and we bought the truck. I respect Richard he served our military he's very professional and very knowledgeable and a very personable person. Richard and Pacific Honda went above and beyond what they had to for my family so they have my respect for that.
I started my research online to purchase a new 2020 Honda Accord Touring and spoke with several people from dealerships on the phone. They would not give me much information on the phone and insisted I come in person to speak with a salesman. I was surprised most of them were too busy to talk to me and were telling me their sticker price MSRP was all they were selling their cars for. I came across Pacific Honda on the internet and they had great reviews and had the car I wanted in black color. I called them on the phone and spoke with a salesman name Fred, (Farhad Zafar). Fred was so nice and friendly and was eager to talk to me about the vehicle I was interested in. I immediately felt comfortable asking him so many questions about the vehicle and price. He was not pushy and he didn't pressure me to buy from him. I spoke with his Sales Manager, Mark Morrow on the phone. He was also very friendly and I was able to discuss everything I wanted in my vehicle. We came to an agreement on the price. This dealership is in San Diego and I would have to drive a long way to go there when I have 3 Honda dealerships near me. Both Fred Zafar and Mark Morrow were so attentive, super nice and professional so I decided I wanted to check out the car at their dealership. I met with Fred Zafar in their lot. He was delightful and he had the car ready to go for me to test drive. Mark Morrow came to meet my husband and I and he was engaging and pleasant. I could tell these two guys had a lot of experience in their field and were extremely knowledgeable with their vehicles. After my test drive I knew I wanted to buy the car from Fred Zafar. After we finished the financing, Fred Zafar took the time to go over everything in my new car. He set up my seat positioning, my alarm to set after I walk away from my car and walked me through the navigation system, cameras and all sorts of features. I have bought many cars in my life and never met a car salesman so compassionate about selling a vehicle to a customer as Fred was. He wanted to make sure he answered all of my questions and I was completely happy with my new detailed and shiny vehicle. I take the time to write these reviews because I read other people's reviews all the time to hear their real experiences. I will refer Fred Zahar to my family and friends to buy a car. I hope Pacific Honda's Corporate office will commend both Fred Zafar and Mark Morrow for providing me with "Outstanding Service". This was the best buying experience I had. Ask for Fred Zafar if you go there because he is so awesome and made me a happy customer! Thank you Pacific Honda! Chevelle Eldridge
Vance was honest & direct and didn't waste our time haggling us or being pushy like others at other dealerships. Upon returning Marcelo was fast, through & efficient. The car buying process was painless and to the point. Both sales consultants were very knowledgeable and took the time explaining features. Days after the purchase, Marcelo followed up with an email and offered to answer any questions that I may have. I was surprised by the thoughtfulness, would definitely recommend anyone buying a new or used car.
I was in the market for a used car and was having a problem getting one, most dealers wanted a cosigner since I did not have a car on my credit report and my credit wasn't that strong. I applied to this dealer through credit Karma one of the sites that hook you up with a dealer and I was introduced to Pacific Honda used car department and Eduardo Ibarra. Eduardo took care of me, I had already seen a car online a 2011 Nissan Altima with low miles only 85,000 and was interested in it. We went for a test drive and then began to get some background information etc., the salesperson was quite helpful and was able to get me financed. Although I had to pay a higher interest rate, I could not have got financed otherwise or would still continue to have a hard time getting an auto loan. As far as the product is concerned there was no pressure in buying the car and after a month or so the car seems to hold up well. When I bought the car it seemed to have minor body work that was needed. Eduardo completed a "Due Bill" with me and took care of the minor damage even though we seemed to miss a scratch. These guys seem to do good work and no haggling about the repair. Overall I would recommend them to anyone seeking a second chance and or starting over.
Today I bought my second Honda from Pacific Honda. I had such a great experience with Jeff McPike the first time (when he was the only person on the west coast that was able to get me the exact car I wanted) that was sure to return. I was not disappointed. I absolutely dread the car buying experience. Negotiating, add-ones, bait and switch... you will get NONE of that with Jeff. He's honest, transparent, quick, and ultra professional. He even came in on a Sunday (his day off) to finalize the sale of a high-demand car because I couldn't make it in sooner. I have and will continue to recommend to all my friends and family to visit Jeff McPike at Pacific Honda. He's seriously the man.
I was introduced to "DJ" Jefferson by a friend and I am so impressed by his caring and concern for my situation. I needed to get into a car as quickly as possible at the best rate . I spoke with him over the phone and let him what I needed in a vehicle and the price range that i wanted and payments range. When i went in for my appointment, he had a range of vehicles that would fit my needs and was able to get me into it.. Thank you DJ!!!!
I worked with Brooks Simpson at Pacific Honda. I am a woman and I hate buying cars (HATE). He helped me from start to finish. He was knowledgeable in their fields and helped me find the perfect car, No pressure through out without any attempts to upsell me on additional features on the car. They were fair with the value of my trade in. I will highly recommend going to Brooks if you're looking for a car! Great Job Brooks!
My daughter and I had a great experience at Pacific Honda, where my daughter purchased her first car (a 2008 Honda CRV). We saw the car on the internet and made an appointment with Tate Mackenzie to show us the car. I had previously had terrible experiences purchasing cars at dealerships, but Tate was so funny and friendly, that he made purchasing a car a pleasure. It was more like purchasing a car from a friend, than from a salesman. He was not pushy at all and did not make us sit there for hours. Instead, he really worked with us to find a fair price. Tate made the purchasing experience smooth and hassle-free. My daughter absolutely loves her car and we left the dealership extremely happy and satisfied. Tate also contacted us a few days later to ensure that my daughter was still happy with the car and that we were satisfied with the purchasing experience. This was by far the best dealership experience I have ever had. I highly recommend both Tate Mackenzie and Pacific Honda.
I am a resident of Chula Vista my son Alex Pena needed a vehicle we visited your used car Center map with a mr. Brooks sellers he was very attentive well mannered salesperson I gave him five stars he attended as well took us through the financial system very well game of this man 5 stars I think him and Pacific Honda and I will recommend other customers to you thank you very much for Gerardo Pena
Great customer service Mr. Darnell Jackson, I appreciate you coming in when you were supposed to be off already. Hope you enjoy the game on Sunday. Hope the Chargers make you proud
This was my first car buying experience, and if I had to do it all over again I would absolutely still choose Pacific Honda. My sales associate Scott was amazing and made the process simple and hassle free. We initially went to the dealership only to look, but after meeting the sales team and sitting down with Scott we decided to make the jump and purchase a vehicle. I would hands down recommend them to anyone looking for a new vehicle, Pacific Honda has an amazing team. It has been a pleasure to work with them.
my dealers name was ted, and was a very sharp gentleman whom was very understanding and helpful. i would highly recommend him to anyone in need of a new car, just because he will make it happen with in reason for you.
Darnell was great with assisting my mother on her car search. She was undecided bht he was flexible, patient and dedicated to making sure she was happy. Thanks Mr. Jackson
Very efficient workers, nice atmosphere! Even if I waited for about 2 hours to get my car serviced since it was a busy weekend, the waiting area was comfortable and it wasn't a drag staying there. Free wifi and refreshments!
timely, helpful, customer oriented, excellent salesman. Really enjoyed working with Scott. samantha was also helpful. They were both very curtious... They answered al our questions and concerns . They were very honest as well . No pressure sales.
Just completed my first Honda purchase ever yesterday. Was happy I went with Pacific Honda. Pricing was quite competitive, even on a very popular model in a cool color. Appreciated the large inventory of cars. Hassle free too and was in and out very quickly (I am person that values my time, which seemed to fit with how they all sell cars here.) Thanks to Lawrence E on the sales experience along with Jojie Delfin for helping me with my car delivery needs.
It was the best experience ever. Agreed with price over the phone and came in to see Scott at 4:30PM and got out at 7PM driving home a new car. Scott made everything easy and smooth transaction. I normally got stuck at other dealer for the whole day. Once again Thanks to Scott and Pacific Honda for the great deal on financing also at .9% and nobody can beat that.
First and foremost I already know what I had in mind when I came down to Pacific Honda. While I was originally to meet with a different individual I was referred to Scott. Now I'll be honest, I've had my run in with different sales men before but Scott was very approachable and easy to talk with. He didn't run figures until the end which was very nice as I was able to focus more on what model I had wanted. Even though I may have been a bit of a pain as we talked numbers he was patient and tried his best to work out a plan that best suited me. That to me shows how someone can go above and beyond. Certainly I will be taking my business to this location from now on as long as I live in San Diego. I was never a Honda fan till I dropped in and I can certainly say Scott is someone you can trust to help you get into the car you want. If anything they need to give this man a raise!
The dealership was awesome I was helped right away and walked threw the entire process step by step and Richard was friendly and personable. I will be back when it is time to get another car
Bought a Civic in 1996, it lasted 16 years....came back to get a car for my mom, Scott was VERY pleasant, knowledgable and VERY patient with her! HAPPY Honda owner #2, I can see it in her eyes!!
I rarely go online to do a review but the service that my daughter and I got from Richard Inzunza was AWESOME! We were shopping for her first car and Richard really took the time to explain the features and benefits of each car to my daughter (17 yrs old) so we could make a fully informed decision. He went above and beyond with his kind, personal approach, he was very patient, he answered all her questions in a thoughtful, understandable manner and above all, he exceeded our expectations with his AMAZING customer service. We walked out of Pacific Honda with our brand new car and a WONDERFUL experience. We would recommend Richard Inzunza to all Bella's friends who are in the market for a new or used car. Keep up the GREAT work Richard...you make car buying easy, pleasant and all within our budget. GIVE THIS GUY A BIG RAISE!!!! With much gratitude, Bella and Donna : )
I had a fantastic experience at Pacific Honda, all of their employees were kind and helpful. I dealt with Scott who got the perfect car for me, he was easy to talk to about my needs and professional ! Couldn't have asked for better service, I'd recommend to anyone in need of a new car! Thank you!
Scott was great from beginning to end. I never felt any pressure and I got a great deal on my new CR-V EX-L. Everyone I had contact with was great.
I am 20 I've currently had a lose senior 2 years, driving a Honda Accord model 1999 and it broke down. I was able to visit pacific Honda and be guided through the process of buying a car easily. Jojie and Robby helped us, both had great personalities and excellent with explaining every detail in buying the car what it came with as well as how to use features on it. Really great experience and I will recommend friends & family. Thank you all who helped at pacific Honda
I leased a car from here and had an incredible experience and I decided to post about it. Normally people like to write about their bad experiences and honestly I am here to do the exact opposite. My experience was just amazing and never thought that the buying process could be so easy and smooth. Sunroad Automotive has great values and I can tell you that Erik Nelson who is the General Manager made sure that my buying experience went smoothly and without a hitch. It's not just the price I was after when I went in, it was to see if I could get the experience that only a few token dealerships can offer and that is friendliness, accuracy, caring about my wants and need and allowing me to pick out a vehicle that suited my taste and my budget. Happy to say that my needs were not just met but exceeded which to me was a surprise due to past experiences at other dealerships, I thought this was just going to be a bit of a hassle and slow process but indeed it was just the opposite. Leasing and or buying a new car is not what many people look forward to and I know I sure did not first going in, but after my time spent and experience I had with Pacific Honda I am going to tell my friends and family that when they are ready to purchase a new or used vehicle that they should only go to one place to get their vehicle. Pacific Honda has been around for many years in Kearny Mesa and I am so glad that I decided to make the stop to look at cars and this visit has left an a good impression that will last a life time. Yes, I sound pretty excited about my buying experience at a dealership but that's because I am!! Thank you Pacific Honda for the making my experience a great one. Just wanted to add that you guys exemplify professionalism in every sense of the word. ~ DC

Welcome to Pacific Honda San Diego
When you choose this dealership, you choose a lifelong partnership with your dealer. We are committed to helping you find the right vehicle for you as well as preserving the performance, safety, reliability, and long-term value of your vehicle purchase. You can count on this dealership for an opulent service experience from the moment you enter our showroom. Visit us today at our address — our seasoned professionals are ready to answer any questions you may have.
This dealership strives to provide the best vehicles and service possible to the dealership area. Our experienced sales and service staff is available to help you find and maintain your next vehicle. Visit our showroom today and let us help you find your dream vehicle!
Get Directions To Pacific Honda San Diego